Yuturi Lodge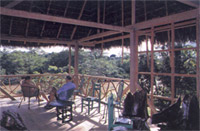 Journey to the fantastic world of the ecuadorian amazon and the Yuturi lodge and biological reserve, a true paradise located 180 kms, east of the city of Coca.

Your adventure begins with a 45-minute flight from Quito crossing the Andes and flying out over the jungle to Coca. From there you will travel by motor boat along the Napo river, one of the main tributaries of the amazon, to the Yuturi river. During the trip you will have many opportunities to enjoy the jungle scenery and the site of an occasional Quichua village.

The Yuturi complex is located on the shores of a beautiful series of lakes and is surrounded by jungle and all the wonderful sounds of different kinds of animals as well as the tranquillity of the majestic rainforest.

The complex includes 15 tropical huts (double occupancy) with private bathrooms. The huts have been built with typical materials in native styles to fit in with the surrounding environment. Lodging is comfortable and the food service is excellent.

Early morning birdwatching is also a real treat, offering the chance to see dozens of species in a short period of time. Yuturi is considered one of the best birdwatching sites in Ecuador.