Yarina Ecuador Amazon Lodge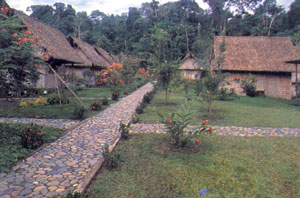 Yarina, which means "Tagua tree" in quechua, is a tourist complex constructed in 1998 and located an hour downriver on the Napo river, which offers an incredible view of the Manduro river.

Located on a 30-hectare parcel of land amidst thousands of hectares of primary and secondary rainforest, Yarina's facilities include 20 spacious cabins with private bathrooms, premier dining services, and a select staff of professionals including specialized naturalist guides.

Yarina is strategically located atop a hill characterized by its exuberant primary vegetation which is the home to an enormous variety of plants and animals.

Yarina is home to exceptionally beautiful lagoons, inundated forests, and primary as well as secondary forests which house an abundance of various types of flora and fauna. With the help of our knowledgeable, native guides, you will have the opportunity to explore these various ecosystem on foot and in canoe, at all hours of the day and night. Furthermore, you will be able to enjoy fishing for piranhas, observing monkeys, and taking in the inspiring view of the rainforest from atop our birdwatching observation tower.